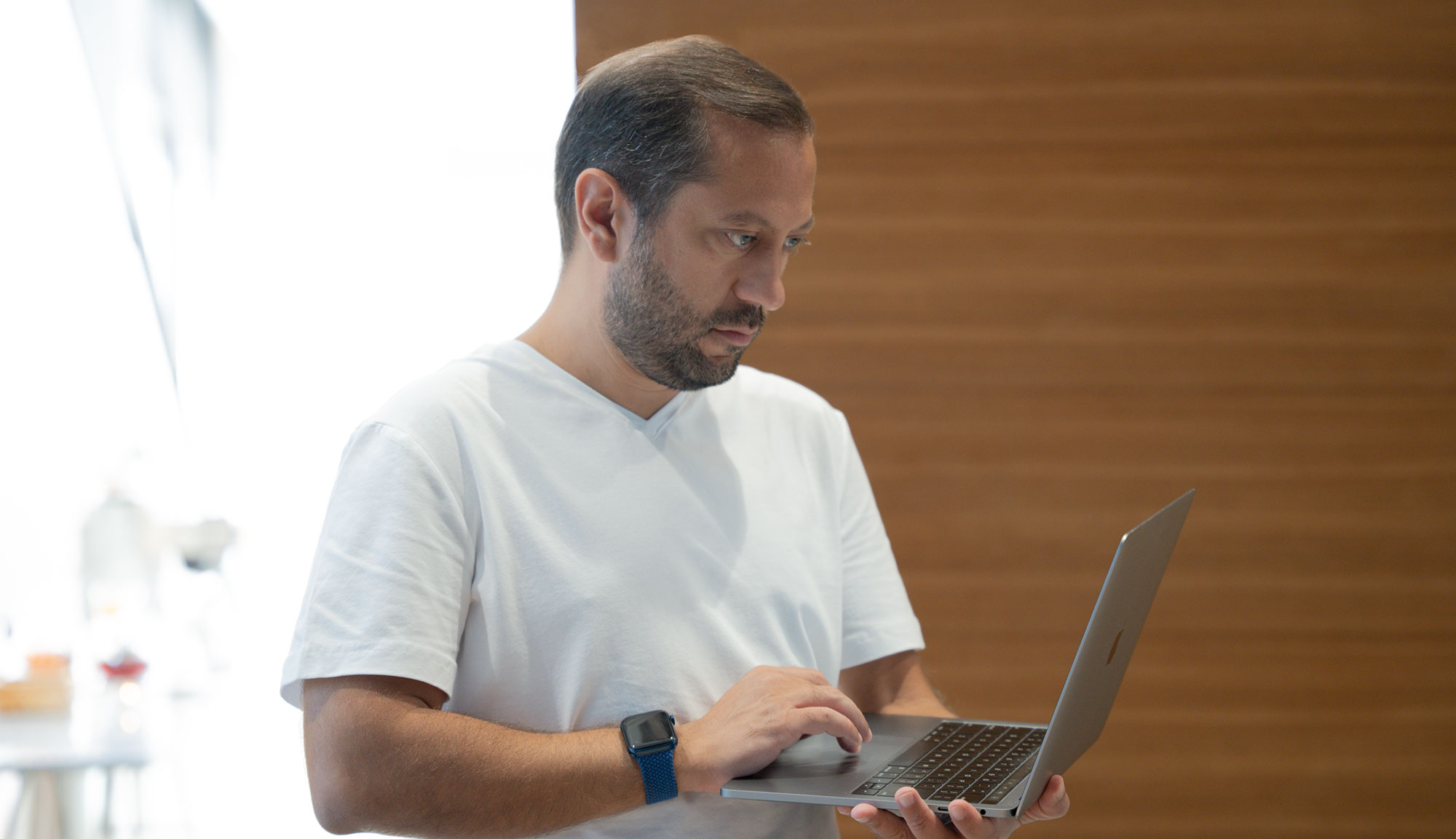 The Master Behind Tamatem's Engine: Eyad Al Basheer, An Exclusive Interview
Hello, Eyad! We are interviewing you today to get to know the operations guru behind the massive machine that is Tamatem Games! Let's get right into it!
Tell us about how you ended up at Tamatem Games! Have you always worked in the mobile games industry? What led you to Tamatem?
I graduated from Princess Sumaya University for Techonology with a degree in Computer Science! That's where I actually first met Hussam, we were college friends both completing the same degree. After graduating, I immediately jumped into the corporate world starting as a developer for a banking solution company and working there for nine years eventually becoming department head, I worked in a very rigid old-school corporate system but it was very stable and had a promising future. Life placed me on a very different path when we graduated, but we remained very close friends throughout the years. One day, on our way to Aqaba, Hussam and I were playing a game called 4pics1word on our iPads and thought how cool it would be if the game was in Arabic, for native Arabic speakers to enjoy and consume. That's when the light bulb clicked for Hussam and he continued in his pursuit to launch a mobile gaming company that would publish Arabic mobile games. 
Shortly after, Hussam gives me a call and asks me to join him in launching and growing Tamatem Games. I had zero experience in the games industry, I spent my whole career working for a banking company and the gaming industry was so very foreign and new to me. For as long as I can remember I was an avid gamer and had a big love for playing games spending most of my free time playing but I never thought I would launch a career in the industry itself. Hussam wanted someone he could trust to manage the operations of the company and we essentially had to build the whole thing from scratch. I had to make the very difficult decision to leave my steady corporate career and join something that at the time had a very high-risk factor, but I believed in Hussam and his idea to launch an Arabic mobile games publisher. The decision was not an easy one to make, but I'm so very happy that I did. I left the only world that I ever knew and joined Hussam in launching Tamatem. I knew that the experience would be very different from where I was but I didn't imagine how incredibly different the start-up world would be. We did everything from administration work to dealing with landlords and even transferring bills! We had to wear so many different hats because we had no one else. I went from leading a very specific department and team to something that was constantly shifting. It took me a while to adjust from the corporate world to the very uncertain non-uniform start-up life. But with high risk comes high return. I jumped the opportunity and never looked back and it was the best decision I ever made.
When you see Tamatem today, what do you feel?
When we first started off we were only 10 people in the company, today, Tamatem's family has grown to over 100 people from all around the world. The numbers we are making today were merely a dream 10 years ago and now we're living it! I never imagined that we would get to where we are today and I am so very proud of what we accomplished. At times and especially working at a startup, things would seem impossible, we had a lot of ups and downs during the years but if you have the right mindset and if you genuinely believe in what you are doing; with the right vision and the right people nothing is impossible. I truly believe that your mindset can change everything. With the right state of mind, with the growth state of mind, entrepreneurs can push through any road bump that could come their way.
Also, hiring the right people is an extremely fundamental thing to the success of your company. You don't want to just hire anyone that fits the job description, you must hire the right person for the culture and environment of the company, and more importantly, you must hire the people that believe in where the ship is headed, in the dream, in the vision. We look for dreamers, we look for people that have a growth mindset that believes in what we're doing. Those are the people that will take your company to the next level. Because, essentially, everything is trainable within the scope of work, but you can't really train people to believe or think in a certain way, you need to have people that go beyond their work scope that are willing to learn and expand their personal goals. With the right people and the right mindset, anything is possible I have seen this firsthand with my experience at Tamatem and it gives me so much pride to see that where we are today is because of so many people that have come our way and helped take our dream to the next level.
What was your favorite game to play growing up? Were you a Console or PC player?
I was a PC gamer growing up, I only bought a console a couple of years back! Ever since I was a kid I was obsessed with PC games and my first one was when I was around 7 years old, it was called 'Sakher' and I was absolutely hooked. It was a big hit when it launched in the market a super long time ago! I was obsessed with PCs and I even once convinced my father to buy the Pentium PC which had the encyclopedia on it with the excuse of me studying… I ended up playing FIFA 98 on it!
What is your favorite Tamatem game?
My all-time favorite Tamatem game was one of earlier published ones 'Shake the Metal' it was one of the games I enjoyed playing most! We spent a lot of time creating the game and I really enjoyed the mechanics of it! It was a super unique and original game and was localized perfectly for the Arabic market. My favorite Tamatem game today is VIP Tarneeb! I really enjoy playing Tarneeb! 
Tell me about your day-to-day at Tamatem. What does it entail? What does a regular day at Tamatem look like for you?
As Chief Operations Officer I basically overlook everything! There are 8 main departments at Tamatem and I need to make sure that they're all running smoothly so that the business runs smoothly! My day is loaded with meetings, slack messages, and emails! Most of my days are following up with department heads and making sure everything is running smoothly! My days are extremely busy, today I have 9 meetings for example! Sometimes, we need to think of ways that would reduce meetings to increase productivity. Sometimes a simple slack message can do the job but other times meetings need to happen to resolve issues, motivate people and align! My role at Tamatem Games is always making sure that we are headed in the right direction, that we are always looking towards our vision, and that every team at Tamatem works seamlessly and is functioning at the highest and best level.
What would you say is the hardest part of your job?
I would say hiring the right people is the most important and most difficult part of the job. As mentioned earlier, people can really make or break the whole unit. One wrong person or one wrong decision can truly have a huge impact on the work, the company, and the team. Similarly, one right person can elevate and rapidly grow the environment you place them in. So it really is such a delicate process that needs to be carefully handled.
What is your favorite part of your job?
When you see the team grow to its full potential and specifically the people that you work closely with. I have seen some team members grow over the years and reach their full potential and it's so rewarding to see the growth and improvement of your co-workers and your team!
What would you do if you and Hussam didn't agree on something?
There are a lot of things Hussam and I disagree on, no two people can agree on everything all the time but the good thing about us both is that we challenge ourselves to be able to entertain each other's points of view! If any of us has an idea we brainstorm and discuss the different implications of that idea or proposal. I also like the way Hussam presents a new idea he has a very modern and open way of approaching new things whereby we would be discussing the topic in a very non-biased way which allows us to come to a well thought final decision that is most beneficial to the company!
What would you say is the most important aspect of a company's culture? How do you maintain a healthy and happy work environment?
A lot of people mistake culture for an environment that's "cool" or "fun" but actually what makes or breaks the company's culture is the values that it's built on. The more that a company grows the more important the values that it has been built on become because the more we grow the more people we have coming through our doors and we need to make sure that the values and fundamentals that Tamatem was built on remain. Our work ethic, the way we question things, the way we approach problems or issues, and the way we communicate with one another. This is all a part of the company's culture and more importantly, the culture mirrors the values that all of Tamatem's team takes very seriously. So in my point of view, to have a modern and relaxed working environment you need to have a working culture that is based on fundamental values that the company was founded on. That way, no matter how much you grow or how many more people come in you can maintain the culture and always go back to the compass of the ship when in doubt. Also, another super important part of a company's culture is to make people see that this company is essentially theirs. It is the place that they spend most of their time in, and when they have a sense of ownership towards the company they automatically start to feel a responsibility towards it, a responsibility to keep it safe, healthy, and always growing.
What is the greatest success/achievement you witnessed at Tamatem Games?
Honestly, the best success that tops everything is to see people growing at Tamatem! Your team turns into your family and seeing people progress, grow and develop is truly one of the most rewarding feelings you can get as a manager. We have become the regions leading mobile gaming company and that happened with the amazing team and talent that we have! We have bred superstar players and I am so proud of our team and the people behind Tamatem Games!
What do you think the MENA mobile games market is going to look like in the next 5 years?
The MENA mobile games market is the only market that stayed afloat and actually continued to grow this year! All the other markets (China & USA) had significant drops but MENA maintained. MENA on the whole is one of the fastest-growing markets, and MENA mobile games are especially growing and flourishing! There's massive room to grow in the MENA mobile games market because it still hasn't been saturated, there are only a few players in the industry and that means that the supply is still significantly less than the great demand that exists in mobile games. I think the market is going to continue to grow exponentially and in 5 years probably reach heights we never imagined! There's a huge opportunity that lies in MENA mobile games and Arabic mobile games! With the rise of countries like Saudi Arabia and their heavy investment in the industry, sets the market on the global stage for growth and expansion. More than that, the industry itself is also expanding into different verticals like web3 and Play To Earn games! The MENA mobile games market is set for a massive boom and success in the near future and we are here for it!